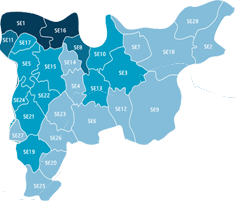 South East London Plumbers
Our Engineers & Plumbers in South East London aim to make your life stress free as possible by providing a quick response and high quality plumbing & heating service. Our Engineers and Plumbers understand how much a stress a boiler problem, leaking pipe or blocked drain can cause. We know you want someone you can rely on to do the job properly, on time and not cost a fortune. Communication is important to us. We talk to our customers, and discuss the work we do. And if there's a problem, we explain exactly what it is and how we intend to fix it. All our local plumbers and engineers have years of experience in plumbing, heating, boilers and drainage.
Our Plumbing & Heating Services In South East London Include:
Emergency Plumber Services
Fixtures & Fittings
Pipe Repairs
Central Heating Installations/Repairs/Maintenance
Boiler Repairs/Installations/Servicing
Gas Work
Drainage
If your require any type of plumbing, heating, boiler or drainage service in South East London please fill in our contact form or give us a quick call.